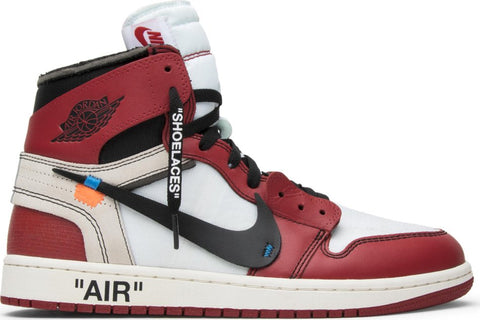 Air Jordan 1 Retro "OFF WHITE/CHICAGO"
For many, their shoe collection is a source of pride and joy. After all, you've gone to great lengths to not only find and purchase these shoes but to keep them in beautiful condition, so they can be a popular part of your collection. We do our best to offer you a variety of great options to add to your collection, including Air Jordan 1 Retro Off White-Chicago. Find your size today!
We know that shopping online can be confusing, especially when it comes to limited edition shoes like the Air Jordan 1 Retro Off White-Chicago. We don't deal with fakes, and to offer you even more reassurance of that fact, we have a couple of factors that we include for your information on every pair of shoes included in our selection. We not only tell you the condition of the shoe, but we also include the style code, year of release, and colorway, that way you know exactly what it is you are purchasing. While this pair may not be the original that Michael Jordan wore, they are a retro version of the first pair ever designed just for him, which makes them a wonderful addition to any collector. If you are having trouble finding your size, please keep checking back. We update our inventory frequently, that way we can bring you the most shoes possible.
Condition: Brand New in Box
Style Code: AA3834 101
Year of Release: 2017
Colorway: White/Black-Varsity Red
---