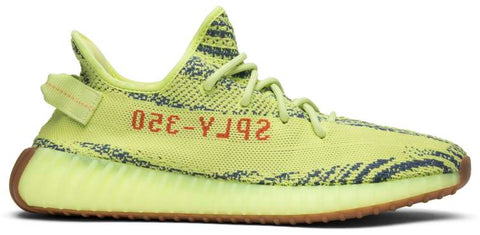 Adidas Yeezy Boost 350 V2 "SEMI FROZEN YELLOW"
We all have our various collections, for some their collection consists of snow globes for others it's all about the shoes. We get the people in the second group, since we are those same people. This store was created thanks to a lovingly cared for shoe collection, and our hope to help others complete their collections. If you've been struggling to find adidas Yeezy Boost 350 V2 Semi Frozen Yellow sneakers, then you have come to the right place. We don't cater to fakes, so you can rest assured that the shoes offered on our website are authentic, the perfect addition to your collection.
To give you more peace of mind while shopping online, our adidas Yeezy Boost 350 V2 Semi Frozen Yellow shoes come with all the information you need to know they are authentic and to verify they are the right shoes you are looking for. We include information related to the condition, colorway, style code, and year of release, so you never have to wonder if this is the right pair or not. We offer a variety of sizes, but if you don't see your size, don't worry, we are constantly updating our inventory so keep checking back.
Condition: Brand New in Box
Style Code: B37572
Year of Release: 2017
Colorway: SEFRYE/RAWSTE/RED
fast shipping, legit kix!
Legit sneakers, worth every penny N not raped priced!
---